Gone with the Wind - (1939) - Netflix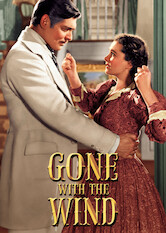 How To Unblock Every Movie & TV Show on Netflix No Matter Where You Are
3h53m -
Classic Movies
Self-absorbed, headstrong Southern Belle Scarlett O'Hara meets her match in Rhett Butler just as the Civil War breaks out.
Director:

Victor Fleming

,

George Cukor

,

Sam Wood

Cast:

Clark Gable

,

Olivia de Havilland

,

Evelyn Keyes

,

Barbara O'Neil

,

Ward Bond

,

Thomas Mitchell

,

Hattie McDaniel

,

George Reeves

,

Vivien Leigh

,

Ann Rutherford

,

Leslie Howard

,

Butterfly McQueen

,

Barbara ONeil

Netflix Rating:

8.1/5
Rotten Tomatoes Score:
0/100
Countries Available in:

Not available where you live? Learn how to unblock Netflix & watch this title.

Available Since:
2020-02-01
Trailer:
Similar Titles:

Synopsis
Scarlett is a woman who can deal with a nation at war, Atlanta burning, the Union Army carrying off everything from her beloved Tara, the carpetbaggers who arrive after the war. Scarlett is beautiful. She has vitality. But Ashley, the man she has wanted for so long, is going to marry his placid cousin, Melanie. Mammy warns Scarlett to behave herself at the party at Twelve Oaks. There is a new man there that day, the day the Civil War begins. Rhett Butler. Scarlett does not know he is in the room when she pleads with Ashley to choose her instead of Melanie.
Other Titles Being Viewed Right Now