Touchez Pas au Grisbi - (1954) - Netflix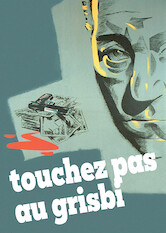 How To Unblock Every Movie & TV Show on Netflix No Matter Where You Are
1h36m -
Classic Movies
Hoping to retire after a major heist, Max is thrust into a tense cat-and-mouse game instead when a rival gangster hears about the loot.
Director:

Jacques Becker

Cast:

Jean Gabin

,

René Dary

,

Dora Doll

,

Vittorio Sanipoli

,

Marilyn Buferd

,

Gaby Basset

,

Paul Barge

,

Alain Bouvette

,

Daniel Cauchy

,

Paul Frankeur

,

Jeanne Moreau

Netflix Rating:

7.8/5
Rotten Tomatoes Score:
100/100
Countries Available in:

Not available where you live? Learn how to unblock Netflix & watch this title.

Available Since:
2021-12-01
Trailer:
Similar Titles:

Synopsis
The middle age bon-vivant Max is a former gangster and close friend of his partner Riton. They have stolen eight gold bars of 12 kg each that worth 50-million francs and Max has kept them hidden for their retirement. Riton's mistress Josy is tired of him and has found a new lover to support her Angelo who is a dangerous gangster. Riton has made a comment to Josy about the gold and soon Angelo discovers that Max and Riton have the stolen gold. He abducts Riton to force Max to give the gold to him. Will Max exchange his gold for Riton?
Other Titles Being Viewed Right Now