Sweeney Todd: The Demon Barber of Fleet Street - (1936) - Netflix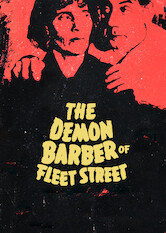 How To Unblock Every Movie & TV Show on Netflix No Matter Where You Are
1h5m -
Classic Movies
A ruthless London barber murders his customers for money and pursues the daughter of a wealthy governor at all costs in this 1936 British horror film.
Director:

George King

Cast:

Tod Slaughter

,

Stella Rho

,

Johnny Singer

,

Eve Lister

,

Bruce Seton

,

D.J. Williams

,

Davina Craig

,

Jerry Verno

,

Ben Souten

,

Billy Holland

Netflix Rating:

7.3/5
Rotten Tomatoes Score:
0/100
Countries Available in:

Not available where you live? Learn how to unblock Netflix & watch this title.

Available Since:
2022-07-30
Similar Titles:

Synopsis
In the Victorian London the barber Benjamin Barker is married to the gorgeous Lucy and they have a lovely child Johanna. The beauty of Lucy attracts the attention of the corrupt Judge Turpin who falsely accuses the barber of a crime that he did not commit and abuses Lucy later after gaining custody of her. After fifteen years in exile Benjamin returns to London under the new identity of Sweeney Todd seeking revenge against Turpin. He meets the widow Mrs. Lovett who is the owner of a meat pie shop who tells him that Lucy swallowed arsenic many years ago and Turpin assigned himself tutor of Johanna. He opens a barber shop above her store initiating a crime rampage against those who made him suffer and lose his beloved family.
Other Titles Being Viewed Right Now