My Neighbor Totoro - (1988) - Netflix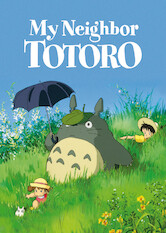 1h22m -
Children & Family Movies
How To Unblock Every Movie & TV Show on Netflix No Matter Where You Are
1h22m -
Children & Family Movies
While spending a summer in the Japanese countryside with their father, two young sisters befriend mystical creatures who live in the nearby forest.
Director:

Hayao Miyazaki

Cast:

Elle Fanning

,

Noriko Hidaka

,

Lea Salonga

,

Paul Butcher

,

Pat Carroll

,

Tim Daly

,

Chika Sakamoto

,

Hitoshi Takagi

,

Frank Welker

,

Dakota Fanning

,

Shigesato Itoi

Netflix Rating:

8.2/5
Rotten Tomatoes Score:
0/100
Countries Available in:

Not available where you live? Learn how to unblock Netflix & watch this title.

Available Since:
2020-02-01
Similar Titles:

Synopsis
Two young girls, Satsuki and her younger sister Mei, move into a house in the country with their father to be closer to their hospitalized mother. Satsuki and Mei discover that the nearby forest is inhabited by magical creatures called Totoros (pronounced toe-toe-ro). They soon befriend these Totoros, and have several magical adventures.
Other Titles Being Viewed Right Now