Coal Miner's Daughter - (1980) - Netflix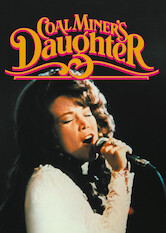 How To Unblock Every Movie & TV Show on Netflix No Matter Where You Are
2h4m -
Classic Movies
This biopic charts country singer Loretta Lynn's rise -- from her hardscrabble upbringing in Appalachia to stardom at the Grand Ole Opry.
Director:

Michael Apted

Cast:

Brian Warf

,

Tommy Lee Jones

,

Elizabeth Watson

,

Bob Hannah

,

Phyllis Boyens

,

Levon Helm

,

Beverly D'Angelo

,

William Sanderson

,

Sissy Lucas

,

Ernest Tubb

,

Pat Patterson

,

Sissy Spacek

,

Phyllis Boyens-Liptak

Netflix Rating:

7.5/5
Rotten Tomatoes Score:
0/100
Countries Available in:

Not available where you live? Learn how to unblock Netflix & watch this title.

Available Since:
2020-03-05
Trailer:
Similar Titles:

Synopsis
At only thirteen years of age, Loretta Webb marries Doolittle Lynn and is soon responsible for a sizeable family. Loretta appears destined to a life of homemaking, but Doolittle recognises his wife's musical talent, and buys her a guitar as an anniversary present one year. At eighteen, the mother of four children and busy housewife still finds time to write and sing songs at small fairs and local honky-tonks. This gift sets Loretta Lynn on the gruelling, tumultuous path to superstardom and country music greatness.
Other Titles Being Viewed Right Now