Biker Boyz - (2003) - Netflix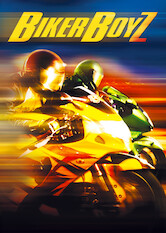 1h51m -
Action & Adventure
How To Unblock Every Movie & TV Show on Netflix No Matter Where You Are
1h51m -
Action & Adventure
Only the speedy survive in Biker Boyz, a Western flick reinvented for the millennium with citizens who are law-abiding by day and biker renegades by night. Laurence Fishburne stars as a biker whose claim as the 'King of Cali' is cha...
Director:

Reggie Rock Bythewood

Cast:

Melissa De Sousa

,

Derek Luke

,

Larenz Tate

,

Tyson Beckford

,

Brendan Fehr

,

Djimon Hounsou

,

Laurence Fishburne

,

Dante Basco

,

Vanessa Bell Calloway

,

Terrence Howard

,

Kadeem Hardison

,

Titus Welliver

,

Rick Gonzalez

,

Meagan Good

,

Dion Basco

,

Salli Richardson-Whitfield

,

Orlando Jones

,

Kid Rock

,

Lisa Bonet

Netflix Rating:

4.6/5
Rotten Tomatoes Score:
0/100
Countries Available in:

Not available where you live? Learn how to unblock Netflix & watch this title.

Available Since:
2019-03-01
Trailer:
Similar Titles:

Synopsis
A mythic motorcycle tale of father and son', this is the story of Manuel Galloway, also known as 'the King of Cali', the president of a motorcycle club whose members are all African-American men, mostly white-collar workers who exchange their suits and ties at night and on weekends for leather outfits and motorcycle helmets. The focus of this story takes place at an annual drag-racing event in Fresno, as Manuel tries to retain his championship title.
Other Titles Being Viewed Right Now