The End of Evangelion - (1997) - Netflix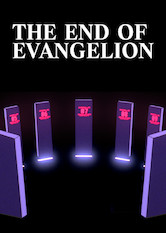 1h27m -
Action & Adventure
How To Unblock Every Movie & TV Show on Netflix No Matter Where You Are
1h27m -
Action & Adventure
Seele orders an all-out attack on NERV, aiming to destroy the Evas before Gendo can trigger Third Impact and Instrumentality under his control.
Director:

Kazuya Tsurumaki

,

Hideaki Anno

Cast:

Megumi Hayashibara

,

Koichi Yamadera

,

Yuriko Yamaguchi

,

Megumi Ogata

,

Motomu Kiyokawa

,

Kotono Mitsuishi

,

Yuko Miyamura

,

Miki Nagasawa

,

Akira Ishida

,

Fumihiko Tachiki

,

Maria Kawamura

,

Hiro Yuki

,

Mugihito

,

Takehito Koyasu

Netflix Rating:

8.2/5
Rotten Tomatoes Score:
0/100
Countries Available in:

Not available where you live? Learn how to unblock Netflix & watch this title.

Available Since:
2019-06-21
Trailer:
Similar Titles:

Synopsis
After the defeat of the final Angel, Shinji Ikari falls into a deep depression. When SEELE orders the JSSDF to make a surprise attack on NERV's headquarters, Gendo Ikari retreats down into Terminal Dogma along with Rei Ayanami, where he begins to advance his own plans for the Human Instrumentality Project. Eventually, Shinji is pushed to the limits of his sanity as he is forced to decide the fate of humanity.
Other Titles Being Viewed Right Now