The Pagemaster - (1994) - Netflix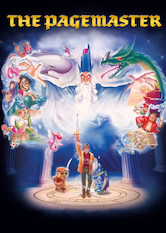 1h15m -
Family Adventures
How To Unblock Every Movie & TV Show on Netflix No Matter Where You Are
1h15m -
Family Adventures
Young Richard Tyler ventures into a library in a storm and is soon swept away into a make-believe world of adventure, fantasy and horror.
Director:

Maurice Hunt

,

Pixote Hunt

,

Joe Johnston

Cast:

Leonard Nimoy

,

Whoopi Goldberg

,

Mel Harris

,

Macaulay Culkin

,

Ed Begley Jr.

,

Christopher Lloyd

,

Patrick Stewart

,

Frank Welker

,

Kanin Howell

,

Alexis Kirschner

,

Jessica Kirschner

Netflix Rating:

6.0/5
Rotten Tomatoes Score:
0/100
Countries Available in:

Not available where you live? Learn how to unblock Netflix & watch this title.

Available Since:
2019-04-15
Trailer:
Similar Titles:

Synopsis
This is the story of a young boy named Richard Tyler, who spouts statistics about the possibility of accidents. So much so, he is scared to do anything that might endanger him, like riding his bike, or climbing into his treehouse. While riding his bike home, Richard finds shelter from a storm inside a nearby library. Richard slips and is knocked unconscious while exploring a rotunda in the library. Upon awakening, he is led on a journey through conflicts and events that resemble fictional stories, keeping him from finding the exit from the library.
Other Titles Being Viewed Right Now