The Scorpion King - (2002) - Netflix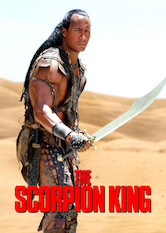 1h31m -
Action & Adventure
How To Unblock Every Movie & TV Show on Netflix No Matter Where You Are
1h31m -
Action & Adventure
Tasked with killing a wicked dictator who's bent on expanding his empire, a heroic warrior gets help along the way from a bewitching sorceress.
Director:

Chuck Russell

Cast:

Bernard Hill

,

Dwayne Johnson

,

Peter Facinelli

,

Michael Clarke Duncan

,

Steven Brand

,

Grant Heslov

,

Kelly Hu

,

Branscombe Richmond

,

Sherri Howard

Netflix Rating:

5.5/5
Rotten Tomatoes Score:
0/100
Countries Available in:

Not available where you live? Learn how to unblock Netflix & watch this title.

Available Since:
2019-03-01
Trailer:
Similar Titles:

Synopsis
In an ancient time, predating the pyramids, the evil king Memnon is using the psychic powers of his sorceress Cassandra to fortell his great victories. In a last ditch effort to stop Memnon from taking over the world, the leaders of the remaining free tribes hire the assassin Mathayus to kill the sorceress. But Mathayus ends up getting much more than he bargained for. Now with the help of the trickster Arpid, tribal leader Balthazar and an unexpected ally, it's up to Mathayus to fufill his destiny and become the great Scorpion King.
Other Titles Being Viewed Right Now