The Order - (2001) - Netflix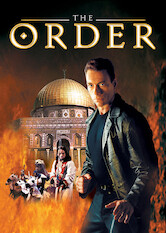 1h29m -
Action & Adventure
How To Unblock Every Movie & TV Show on Netflix No Matter Where You Are
1h29m -
Action & Adventure
A smuggler goes to Jerusalem to rescue his kidnapped father and find a sacred scroll, but he'll have to outwit officials and a ruthless sect.
Director:

Sheldon Lettich

Cast:

Brian Thompson

,

Alon Aboutboul

,

Sofia Milos

,

Sasson Gabai

,

Ben Cross

,

Vernon Dobtcheff

,

Charlton Heston

,

Jean-Claude Van Damme

Netflix Rating:

4.7/5
Rotten Tomatoes Score:
0/100
Countries Available in:

Not available where you live? Learn how to unblock Netflix & watch this title.

Available Since:
2019-07-01
Trailer:
Similar Titles:

Synopsis
Van Damme plays Rudy whose father, Oscar is an archaeologist. His father goes to Israel. When his father disappears, he goes to Israel to find him. The chief of police claims that his father never entered the country, but an old friend of his father's was expecting him and before he could tell him more, some people start shooting at them. He manages to get away, and when he goes back to the police chief, he still refuses to believe that a crime has been committed. He then has Rudy deported, but Rudy convinces the police woman assigned to bring him to the airport not to and help him find his father.
Other Titles Being Viewed Right Now