American Outlaws - (2001) - Netflix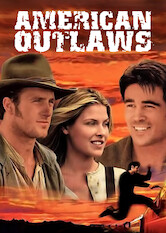 1h34m -
Action & Adventure
How To Unblock Every Movie & TV Show on Netflix No Matter Where You Are
1h34m -
Action & Adventure
In the wake of the Civil War, Jesse James leads a feisty group of ranchers in a fight against a railroad baron bent on seizing their land at any cost.
Director:

Les Mayfield

Cast:

Colin Farrell

,

Scott Caan

,

Ali Larter

,

Gabriel Macht

,

Gregory Smith

,

Harris Yulin

,

Kathy Bates

,

Timothy Dalton

,

Ty O'Neal

,

Will McCormack

,

Ronny Cox

,

Terry O'Quinn

,

Muse Watson

,

Joe Stevens

,

Barry Tubb

Netflix Rating:

6.0/5
Rotten Tomatoes Score:
14/100
Countries Available in:

Not available where you live? Learn how to unblock Netflix & watch this title.

Available Since:
2021-08-01
Trailer:
Similar Titles:

Synopsis
When a Midwest town learns that a corrupt railroad baron has captured the deeds to their homesteads without their knowledge a group of young ranchers join forces to take back what is rightfully theirs. In the course of their vendetta they will become the object of the biggest manhunt in the history of the Old West and as their fame grows so will the legend of their leader a young outlaw by the name of Jesse James.
Other Titles Being Viewed Right Now