Murder on the Orient Express - (1974) - Netflix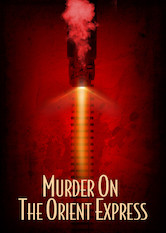 How To Unblock Every Movie & TV Show on Netflix No Matter Where You Are
2h7m -
Classic Movies
When a passenger is found dead aboard the Orient Express, investigator Hercule Poirot sifts through an eccentric group of suspects to find the killer.
Director:

Sidney Lumet

Cast:

Martin Balsam

,

Anthony Perkins

,

Albert Finney

,

Ingrid Bergman

,

Sean Connery

,

Michael York

,

Jean-Pierre Cassel

,

Colin Blakely

,

Rachel Roberts

,

Lauren Bacall

,

Jacqueline Bisset

,

Wendy Hiller

,

Vanessa Redgrave

,

John Gielgud

,

Richard Widmark

Netflix Rating:

7.3/5
Rotten Tomatoes Score:
89/100
Countries Available in:

Not available where you live? Learn how to unblock Netflix & watch this title.

Available Since:
2020-08-02
Trailer:
Similar Titles:

Synopsis
Famous detective Hercule Poirot is on the Orient Express, but the train is caught in the snow. When one of the passengers is discovered murdered, Poirot immediately starts investigating.
Other Titles Being Viewed Right Now