Battle Beyond the Stars - (1980) - Netflix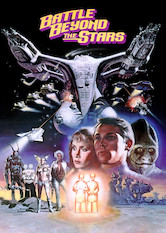 1h42m -
Sci-Fi & Fantasy
With the peaceful planet of Akir in peril, seven mercenaries join forces to protect it from the plottings of an intergalactic megalomaniac.
Director:

Roger Corman

,

Jimmy T. Murakami

Cast:

Morgan Woodward

,

Jeff Corey

,

George Peppard

,

Sam Jaffe

,

Sybil Danning

,

Robert Vaughn

,

Richard Thomas

,

John Saxon

,

Darlanne Fluegel

,

Marta Kristen

Netflix Rating:

5.5/5
Rotten Tomatoes Score:
0/100
Countries Available in:

Not available in your region? Sign up for ExpressVPN to unblock Netflix!

Available Since:
2019-10-01
Trailer:
Similar Titles:

Synopsis
Shad, a young farmer, assembles a band of diverse mercenaries in outer space to defend his peaceful planet from the evil tyrant Sador and his armada of aggressors. Among the mercenaries are Space Cowboy, a spacegoing truck driver from Earth; Gelt, a wealthy but experienced assassin looking for a place to hide; and Saint-Exmin, a Valkyrie warrior looking to prove herself in battle.
Other Titles Being Viewed Right Now