Sailor Moon SuperS: The Movie: Black Dream Hole - (1995) - Netflix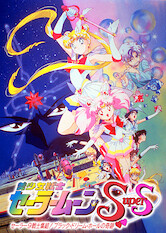 How To Unblock Every Movie & TV Show on Netflix No Matter Where You Are
59m -
Action & Adventure
Queen Valdiana plots to harvest children's dreams, drawing Earth into her Black Dream Hole. The Sailor Scouts must fight for Chibi Moon and the world!
Director:

Hiroki Shibata

Cast:

Keiko Han

,

Emi Shinohara

,

Toru Furuya

,

Kae Araki

,

Yasuhiro Takato

,

Kotono Mitsuishi

,

Rica Fukami

,

Aya Hisakawa

,

Michie Tomizawa

Netflix Rating:

7.5/5
Rotten Tomatoes Score:
NA
Countries Available in:

Not available where you live? Learn how to unblock Netflix & watch this title.

Available Since:
2022-06-15
Trailer:
Similar Titles:

Synopsis
When the Evil Madame Vadiane kidnaps Chibi-Usa, the senshi rush to her rescue with the aid of Chibi-Usa's new friend, Peruru. After trying to find Chibi-Usa and fight off Vadiane's henchmen to no avail, the three outer senshi (Neptune, Uranus, and Pluto) come to their aid. To rescue Chibi-Usa before she falls into a permanent dream filled sleep, Usagi must enter the Black Dream hole and save her. With some luck and a lot of effort, Sailor Moon saves Chibi-Usa, and she transforms to help Usagi.
Other Titles Being Viewed Right Now