Beethoven's 3rd - (2000) - Netflix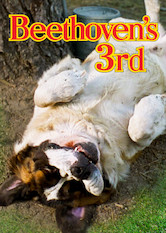 1h38m -
Children & Family
How To Unblock Every Movie & TV Show on Netflix No Matter Where You Are
1h38m -
Children & Family
Stuck with their relatives' giant St. Bernard during a road trip vacation, a family learns to appreciate the unruly pet when thieves enter the scene.
Director:

David Mickey Evans

,

David M. Evans

Cast:

Julia Sweeney

,

Judge Reinhold

,

Michaela Gallo

,

Danielle Keaton

,

Mike Ciccolini

,

Frank Gorshin

,

Greg Pitts

,

Joe Pichler

,

James Marsh

Netflix Rating:

4.1/5
Rotten Tomatoes Score:
0/100
Countries Available in:

Not available where you live? Learn how to unblock Netflix & watch this title.

Available Since:
2021-08-16
Trailer:
Similar Titles:

Synopsis
The Newton family from the original Beethoven movies are on vacation in Europe but do plan to join a Newton family reunion and to make sure one of their family members definitely makes it, they ship him to travel to the reunion with George Newton's brother Richard. Guess which family member it was? That's right, Beethoven! The giant mutt follows Richard Newton and his family of a nagging wife and two bratty kids as they hit the road to California in a huge, shiny - and expensive RV, equipped with a DVD player. Following them are two bumbling crooks who have hidden some secret codes on a DVD that they figure no one in the world will buy, but someone does: Richard. So now they've got a DVD holding top secret information and the crooks must get it back...
Other Titles Being Viewed Right Now