U.S. Marshals - (1998) - Netflix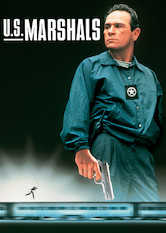 2h11m -
Action & Adventure
How To Unblock Every Movie & TV Show on Netflix No Matter Where You Are
2h11m -
Action & Adventure
A convicted murderer is on his way to prison when his jet nose-dives into the Louisiana bayou. He escapes, with a U.S. marshal hot on his heels.
Director:

Stuart Baird

Cast:

Joe Pantoliano

,

Tommy Lee Jones

,

Wesley Snipes

,

LaTanya Richardson

,

Daniel Roebuck

,

Kate Nelligan

,

Irene Jacob

,

Tom Wood

,

Robert Downey Jr.

Netflix Rating:

6.5/5
Rotten Tomatoes Score:
0/100
Countries Available in:

Not available where you live? Learn how to unblock Netflix & watch this title.

Available Since:
2019-03-01
Trailer:
Similar Titles:

Synopsis
When a prisoner transport plane crashes, one prisoner, Mark Sheridan, skillfully escapes and saves lives at the same time. Deputy Sam Gerard and his team of U.S. Marshals pursue relentlessly, but Gerard begins to suspect that there is more to the exceptional fugitive than what he has been told. Meanwhile, Sheridan struggles to avoid capture while seeking answers of his own. Until the final scene, both Gerard and Sheridan are in jeopardy of the unknown.
Other Titles Being Viewed Right Now