Executive Decision - (1996) - Netflix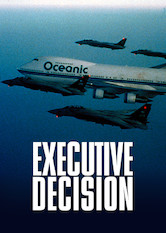 2h12m -
Action & Adventure
How To Unblock Every Movie & TV Show on Netflix No Matter Where You Are
2h12m -
Action & Adventure
When terrorists hijack a 747 and turn it into a nerve gas bomb aimed at Washington, D.C., commandos use an experimental plane to try to stop them.
Director:

Stuart Baird

Cast:

Oliver Platt

,

Halle Berry

,

J.T. Walsh

,

Marla Maples

,

Mary Ellen Trainor

,

Paul Collins

,

Len Cariou

,

Joe Morton

,

David Suchet

,

Kurt Russell

,

John Leguizamo

,

Whip Hubley

,

Andreas Katsulas

,

Steven Seagal

,

BD Wong

Netflix Rating:

6.4/5
Rotten Tomatoes Score:
0/100
Countries Available in:

Not available where you live? Learn how to unblock Netflix & watch this title.

Available Since:
2019-11-01
Trailer:
Similar Titles:

Synopsis
Terrorists take over a 747 bound from Athens to Washington D.C., supposedly to effect the release of their leader. Intelligence expert David Grant suspects another reason and convinces the military that the 'plane should not be allowed to enter U.S. airspace. An assault mission is devised, using a specially equipped 'plane designed for mid-air crew transfers, and Grant finds himself aboard the 747 with a team of military anti-terrorists who have to defuse a bomb and overpower the terrorists.
Other Titles Being Viewed Right Now