Dr. No - (1962) - Netflix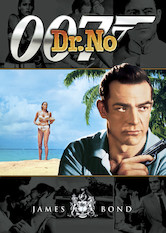 1h49m -
Action & Adventure
How To Unblock Every Movie & TV Show on Netflix No Matter Where You Are
1h49m -
Action & Adventure
On a mission in Jamaica, debonair Agent 007 -- in the first James Bond film -- finds evil scientist Dr. No plotting to derail the U.S. space program.
Director:

Terence Young

Cast:

Lois Maxwell

,

Zena Marshall

,

Ursula Andress

,

Sean Connery

,

John Kitzmiller

,

Bernard Lee

,

Joseph Wiseman

,

Eunice Gayson

,

Anthony Dawson

,

Jack Lord

Netflix Rating:

7.3/5
Rotten Tomatoes Score:
0/100
Countries Available in:

Not available where you live? Learn how to unblock Netflix & watch this title.

Available Since:
2019-03-01
Trailer:
Similar Titles:

Synopsis
James Bond (007) is Britain's top agent and is on an exciting mission, to solve the mysterious murder of a fellow agent. The task sends him to Jamaica, where he joins forces with Quarrel and a loyal CIA agent, Felix Leiter. While dodging tarantulas, 'fire breathing dragons' and a trio of assassins, known as the three blind mice. Bond meets up with the beautiful Honey Ryder and goes face to face with the evil Dr. No.
Other Titles Being Viewed Right Now