Sailor Moon - (1993) - Netflix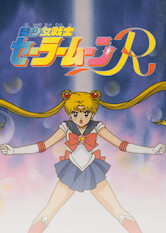 1h0m -
Action & Adventure
How To Unblock Every Movie & TV Show on Netflix No Matter Where You Are
1h0m -
Action & Adventure
When bewitching alien Kisenian threatens to replace the solar system's positive energy with negative waves, youthful adventuress Sailor Moon and her four fellow Sailors jump into action in this feature-length film based on the popular a...
Director:

Kunihiko Ikuhara

Cast:

Megumi Ogata

,

Rica Fukami

,

Yasuhiro Takato

,

Emi Shinohara

,

Johnny Yong Bosch

,

Robbie Daymond

Netflix Rating:

8.2/5
Rotten Tomatoes Score:
NA
Countries Available in:

Not available where you live? Learn how to unblock Netflix & watch this title.

Available Since:
2022-06-15
Similar Titles:

Synopsis
Whiney 14-year-old Tsukino Usagi has forgotten about her past as a Moon Princess, and Sailor Moon in this sequel series to 'Bishoujo Senshi Sailor Moon.' But the dubious super-heroine is revived when two aliens attack people to steal their energy. The intimate aliens, Ail and Ann, disguise themselves as Junior High Students, and each get jealous at each other for finding interest in Mamoru and Usagi. The other senshi are revived as well, and eventually, this story is wrapped up. The next portion of Sailor Moon R deals with Chiba-Usa, a tiny girl with an uncanny resemblance to Usagi, who is trying to find the ginzuishou (Silver Moon Crystal) so she can go back into the Future Moon to protect her parents from the Black Moon Family, which is trying to seize the ginzuishou so their Black Crystal can be at full power, and open the Gate of Time, allowing them to cloud the world and future with dark power. The Sailor Senshi must protect Chiba Usa from the Black Moon family.
Other Titles Being Viewed Right Now