Amar Akbar Anthony - (1977) - Netflix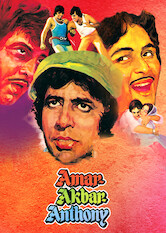 2h51m -
Action & Adventure
How To Unblock Every Movie & TV Show on Netflix No Matter Where You Are
2h51m -
Action & Adventure
Abandoned in a park by their father, Amar, Akbar and Anthony grow up independently and have no knowledge of one another. They're reunited as adults when, by coincidence, they all give blood at the same hospital.
Director:

Manmohan Desai

Cast:

Shabana Azmi

,

Rishi Kapoor

,

Neetu Singh

,

Nirupa Roy

,

Amitabh Bachchan

,

Parveen Babi

,

Pran

,

Vinod Khanna

Netflix Rating:

7.5/5
Rotten Tomatoes Score:
0/100
Countries Available in:

Not available where you live? Learn how to unblock Netflix & watch this title.

Available Since:
2019-12-31
Trailer:
Similar Titles:

Synopsis
A ex-convict must flee his mob boss, leaving his family to fend for themselves. His wife goes blind and his children are abandoned. They are adopted by a Hindu policeman, a Muslim tailor, and a Catholic priest. The Hindu-raised son becomes a policeman in his turn; his Muslim-raised brother becomes a singer; and the last son, played by Amitabh, becomes a happy-go-lucky Catholic who lives on the edge of the law. The boys meet again and their lives become entangled in an incredible plot full of unlikely coincidences and furious action sequences interspersed with songs. In the end, the grieving mother recovers her sight, the evil mob boss is punished, and the family is at last re-united.
Other Titles Being Viewed Right Now