GoldenEye - (1995) - Netflix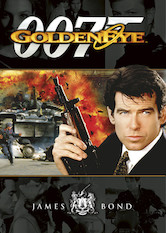 2h9m -
Action & Adventure
How To Unblock Every Movie & TV Show on Netflix No Matter Where You Are
2h9m -
Action & Adventure
Pierce Brosnan takes his first turn as debonair secret agent James Bond, who investigates the destruction of a Russian satellite weapons base.
Director:

Martin Campbell

Cast:

Sean Bean

,

Pierce Brosnan

,

Tcheky Karyo

,

Michael Kitchen

,

Robbie Coltrane

,

Simon Kunz

,

Joe Don Baker

,

Samantha Bond

,

Gottfried John

,

Desmond Llewelyn

,

Izabella Scorupco

,

Judi Dench

,

Famke Janssen

,

Serena Gordon

,

Alan Cumming

Netflix Rating:

7.2/5
Rotten Tomatoes Score:
0/100
Countries Available in:

Not available where you live? Learn how to unblock Netflix & watch this title.

Available Since:
2019-03-01
Trailer:
Similar Titles:

Synopsis
When a deadly satellite weapon system falls into the wrong hands, only Agent 007 can save the world from certain disaster. Armed with his license to kill, Bond races to Russia in search of the stolen access codes for 'Goldeneye,' an awesome space weapon that can fire a devastating electromagnetic pulse toward Earth. But 007 is up against an enemy who anticipates his every move: a mastermind motivated by years of simmering hatred. Bond also squares off against Xenia Onatopp, an assassin who uses pleasure as her ultimate weapon.
Other Titles Being Viewed Right Now