Gol Maal - (1979) - Netflix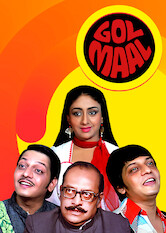 How To Unblock Every Movie & TV Show on Netflix No Matter Where You Are
2h16m -
Classic Movies
When circumstances at work compel Ram to pretend to have a twin, his lie works -- until the boss wants his daughter to marry Ram's fictitious brother.
Director:

Hrishikesh Mukherjee

Cast:

Dina Pathak

,

Pushpa

,

Manju Singh

,

Amol Palekar

,

Bindiya Goswami

,

Deven Verma

,

Utpal Dutt

,

David Abraham

,

Asrani

,

Shubha Khote

Netflix Rating:

8.6/5
Rotten Tomatoes Score:
0/100
Countries Available in:

Not available where you live? Learn how to unblock Netflix & watch this title.

Available Since:
2019-12-31
Trailer:
Similar Titles:

Synopsis
Ramprasad is a recent college graduate who finds a job with a finicky man, Bhavani Shankar, who believes that a man without a mustache is a man without a character. Bhavani Shankar is also against any of his employees indulging in recreation of any kind. When Ramprasad is caught by his boss at a hockey match, he has to invent a twin brother, the clean-shaven Laxman Prasad, to save his job. When Bhavani's daughter falls in love with the clean-shaven Laxman Prasad, and insists on marrying him, and Bhavani insists she should marry Ramprasad, things take a whacky turn. A fake mother and a hilarious chase are other enjoyable features involved in this comedy.
Other Titles Being Viewed Right Now