Double Team - (1997) - Netflix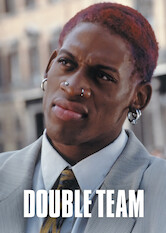 1h33m -
Action & Adventure
How To Unblock Every Movie & TV Show on Netflix No Matter Where You Are
1h33m -
Action & Adventure
A counterterrorism operative teams with an eccentric weapons dealer to head to Rome and save his family from a notorious terrorist.
Director:

Hark Tsui

Cast:

Paul Freeman

,

Dennis Rodman

,

Mickey Rourke

,

Jean-Claude Van Damme

Netflix Rating:

4.8/5
Rotten Tomatoes Score:
11/100
Countries Available in:

Not available where you live? Learn how to unblock Netflix & watch this title.

Available Since:
2021-07-01
Trailer:
Similar Titles:

Synopsis
Counter-terrorist Jack Quinn misses his target, Stavros, on the eve of his final mission. From there, he is sent to "The Colony", a rebirth for presumed-dead assassins. He breaks free from there, and seeks the aid of Yaz, a weapons dealer, for his final battle with Stavros.
Other Titles Being Viewed Right Now