True Romance - (1993) - Netflix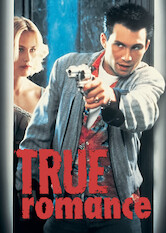 2h0m -
Action & Adventure
How To Unblock Every Movie & TV Show on Netflix No Matter Where You Are
2h0m -
Action & Adventure
A retail clerk and a small-time hooker fall in love, commit murder and flee Detroit with a stash of cocaine. But cops and the mob are not far behind.
Director:

Tony Scott

Cast:

Tom Sizemore

,

Gary Oldman

,

Brad Pitt

,

Dennis Hopper

,

Samuel L. Jackson

,

Bronson Pinchot

,

Saul Rubinek

,

Val Kilmer

,

Patricia Arquette

,

Christopher Walken

,

Michael Rapaport

,

James Gandolfini

,

Christian Slater

Netflix Rating:

7.9/5
Rotten Tomatoes Score:
0/100
Countries Available in:

Not available where you live? Learn how to unblock Netflix & watch this title.

Available Since:
2020-01-01
Trailer:
Similar Titles:

Synopsis
In Detroit, Clarence Worley goes to the movie theater alone on the day of his birthday to watch some movies. The gorgeous Alabama Whitman accidentally drops her popcorn on Clarence and they watch the movie together. Later they go to a diner for pie, and end up having a one night stand. In the morning, Alabama confesses that she is a call-girl hired to spend the night with him, but she has fallen in love with him. In the morning they get married and Clarence goes to the club where she worked to bring her some clothes. However, her pimp Drexl Spivey and his partner beat up Clarence and he reacts by killing them both. Clarence asks for Alabama's suitcase with her clothes and the other girls mistakenly give another one with cocaine. When Clarence discovers the mistake, he decides to travel with Alabama to the house of his friend, the aspiring actor Dick Ritchie, to sell the drug and travel to Mexico. He visits his father Clifford Worley and gives his address to him. But the Sicilian Mafia is the owner of the drug and a group of killers are sent to hunt down Clarnece and Alabama.
Other Titles Being Viewed Right Now