Robot Jox - (1990) - Netflix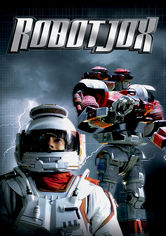 Sci-Fi & Fantasy
In this futuristic tale, conflict is resolved through war – but not between humans: The world's superpowers are colossal, robotic techno-warriors.
Director:

Stuart Gordon

Cast:

Ian Patrick Williams

,

Michael Saad

,

Jeffrey Combs

,

Michael Alldredge

,

Hilary Mason

,

Danny Kamekona

,

Robert Sampson

,

Paul Koslo

,

Anne-Marie Johnson

,

Gary Graham

Netflix Rating:

2.9/5
Rotten Tomatoes Score:
0/100
Countries Available in:

Not available in your region? Sign up for ExpressVPN to unblock Netflix!

Available Since:
01 Oct 2014
Similar Titles:

Synopsis
It is post-World War III. War is outlawed. In its place, are matches between large Robots called Robot Jox. These matches take place between two large superpowers over disputed territories....
Other Titles Being Viewed Right Now